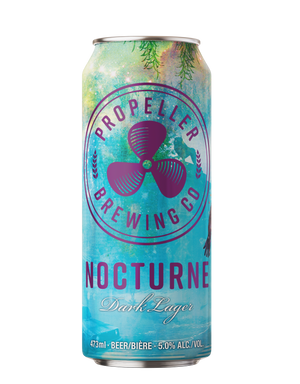 Nocturne Dark Lager 4 pack
Nocturne Dark Lager - 4x473ml cans
Pouring jet black with a tan head. Notes of toasted bread, milk chocolate, and a hint of coffee all come from the carefully selected roasted and toasted malts. Isar Lager yeast emphasizes the malt qualities while finishing crisp and clean on the palate.
Propeller Brewing is proud to support Nocturne: Art At Night. Each year, Nocturne brings art and energy to the streets of Kjipuktuk/Halifax and into our lives (for free). Their efforts are part of what makes us proud to call this place our home. As a show of support for what they do, profits from Nocturne Dark Lager are donated directly to the festival. So buy more beer - and help bring art to everyone!

2023 can design by Myron Campbell, featuring augmented reality animations!

ABV: 5%